If TVs still had dials, I'd tell you to set yours to WGN this morning around 11. I'll be on screen presenting a few picks for a winter-style mashup. I'm intrigued by these selections, because they represent a wide range of styles from classic Midwest to trim European. All of these pieces can stand on their own, of course, but I especially like how several of them would work well together in one cohesive outfit. Across of variety of price points, too.
Let's get moving, from top to bottom.
1.Classic Cap ($40) by Stormy Kromer: This thing exudes upper Midwest style. Made in America, this is Michigan head warmth at its best. Like your dad on a hunting trip.
2. 10,000 Lakes Scarf ($62) by Pierrepont Hicks: A different sort of neckwear from the acclaimed tie brand, there's something quintessentially Minnesotan about this scarf. As if there weren't enough praise to be heaped on Mac and Katherine McMillan, we love the cosmopolitan influences blooming from these Midwestern roots. It doesn't hurt that it's a damn handsome scarf to boot.
3. Kromer Jack ($179) by Stormy Kromer: What's going on here? Is it a jacket, a shirt, or neither? In their own words, this jacket was made for "those days when a walk to the woodshed doesn't require an overcoat, yet calls for more than an undershirt." Made with fine wool, it's nice to see a classic brand getting experimental.
4. Holiday tie ($75) by Fresh and Proper: Sure, this isn't outdoor-oriented like the rest of these items, but you need something ready to go when all that outerwear comes off. And chivalry, after all, ain't dead.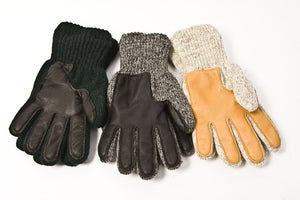 5. Ragg Wool gloves with deerskin palms ($30) by Buckshot Sonny's: Once your fingers slide into the polymide lining of these gloves, you'll know you're in heaven. Best part is, the leather will patina with character.
6. Donegal tweed trousers ($80) by Topman: Remember when I said we were working with style on a spectrum? While the rest of these picks are pretty Midwestern and classic in nature, these trousers up the ante slightly by promoting a slimmer European cut–all while maintaing a staid respectability thanks to its conventional fabric.
7. 10″ shearling-lined boots (reg. $179, sale $161) by L.L. Bean: Some of my all-time favorite winter boots, these are sure to last for a few decades at least. That's what we call investment. Plus, does it get more classic than this, slogging around soggy ground in duck boots?
8. U.S. Cavalry Blanket ($120) by Amana Woolen Mills: Who says Pendleton is the only name in American wool? Meet Amana, the Iowa-based textile geniuses who've been spinning out fine wool products for the past 150+ years. Trust me; once you run your fingers over this blanket, you'll at once be electrified by this country's deep heritage and the warming properties of pure wool.
How about you? What's on your must-have list for the winter months.